NYC Wine & Food Festival 2014 – CHOPPED! Best Bloody Mary Brunch perfected by ABSOLUT

NYC Wine & Food Festival 2014
CHOPPED! Best Bloody Mary Brunch perfected by ABSOLUT
Join Dinah Surh and other favorite Food Network celebrity chefs as they judge these unique recipes. Past Chopped cheftestants will be serving up delicious and satisfying brunch dishes that will be worth waking up for, no matter how late you were out the night before!
New York Hilton Midtown, Grand Ballroom – 1335 Sixth Avenue at 54th Street
Saturday, October 18, 12:30PM – 3PM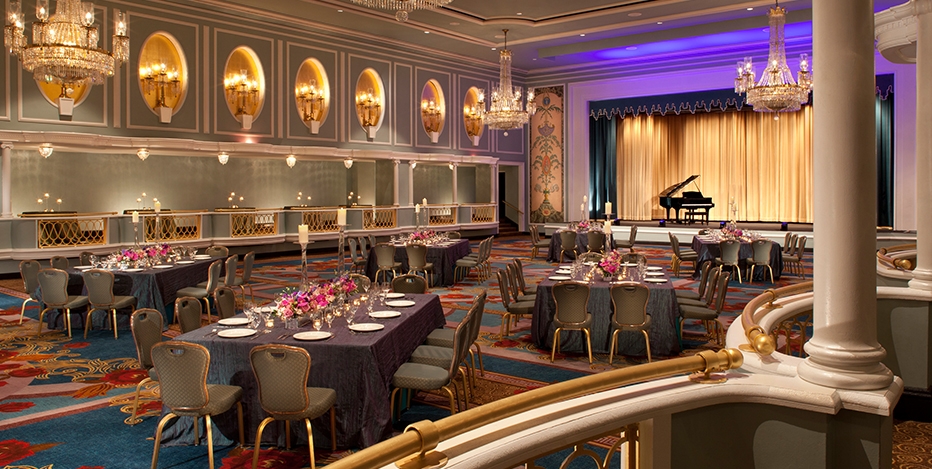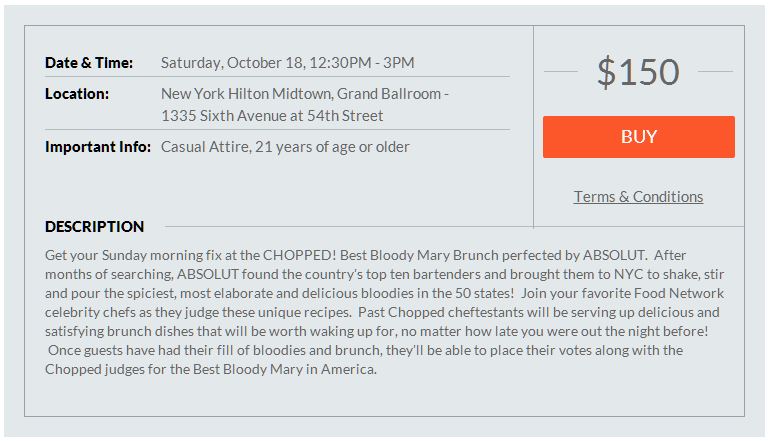 Website Link: http://www.nycwff.org/e/absolut_best_bloody_mary_brunch-250
---
The Big Day Is Here
Menu: Korean Sweet and Spicy BLT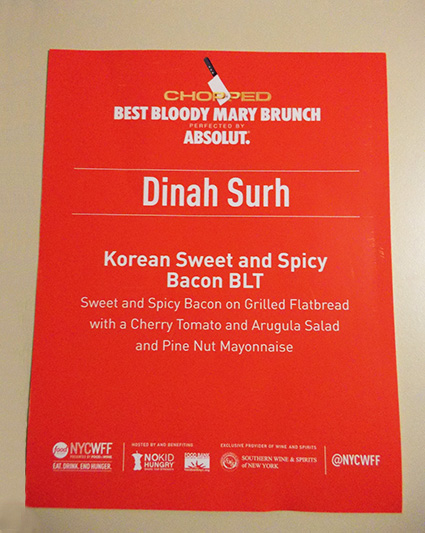 I recently participated in the exciting NYC Food and Wine Festival "Food Network Chopped Bloody Mary Brunch" at the Manhattan Hilton. I was among a dozen former Chopped Champions who were asked by the Chopped Cast to present signature brunch items.
I made a Korean Sweet and Spicy Bacon with a Pine Nut Mayonnaise that was raved about. Some attendees even asked to take a photo with me.The Best Absolut Vodka Bloody Mary Contest was held by Thrillist at the brunch with a sold out crowd of 800 attendees.
The Chopped judges along with the attendees voted to crown the best Bloody Mary cocktail. At the brunch I met Vevlyn Wright,a former NY Times editor who has a fresh and new perspective on covering art, lifestyle, culture, fashion, film and food in a unique way adding an irresistible appeal in her writing and coverage.
Here's an article that Vevlyn Wright of Vevlyn's Pen wrote about me as well as a video interview she conducted at the brunch event. It was thrilling to meet Vevlyn since she is such a dynamic, supportive and creative person! I hope you visit her site for more news at www.vevlynspen.com
Shane my Italian Stallion and Noelle my fabulous daughter were my chef assistants. I couldn't have done it without them!
---
ARTICLES:
Meanwhile, the "'CHOPPED' Best Bloody Mary Brunch" has also presented an opportunity to catch up with one of its chefs and former "CHOPPED" champ, Dinah Surh.
Source: VEVLYNSPEN.COM

---
Dinah Surh: "Korean Sweet and Spicy Bacon BLT"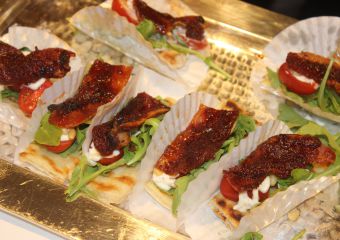 Source: LOCALBOZO.COM