Dinah Surh – Food Network Chopped Champion
Dinah Surh – Food Network Chopped Champion
Korean cooking and the epic diversity of flavors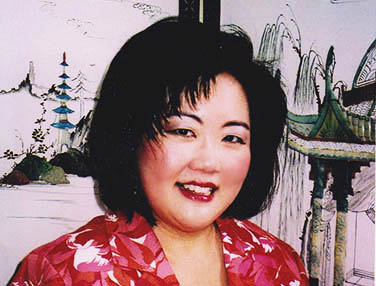 Dinah Surh
Dinah Surh is a native New Yorker who is a hospital administrator by day and a culinary diva at night! Inspired by her mom's mouthwatering Korean cooking and the epic diversity of flavors in NYC she enjoys creating new taste sensations. She loves trying new ingredients, pouring over cookbooks from the public library and avidly watching cooking shows. Dinah has turned her passion as a home cook into competing and winning cooking contests.
She became a Food Network Chopped Champion in the "Ambitious Amateurs" episode in 2014 and has competed in the Tournament of Chopped Champions. She's also a three time national Pillsbury Bake Off finalist for her Mediterranean Chicken Vegetable Galette, Meatball Minestrone Bake and Spinach Turkey Sliders with Lemon Yogurt Sauce recipes.
She was the ultimate winner of "The 10 Ingredient Challenge Cooking Contest" on ABC's Rachael Ray Show; named the grand prize winner in the Staten Island Advance Newspaper Cooking Contest for "Scallop Up", a bay scallop and potato pancake appetizer and a General Mills category winner for her "All Day Breakfast Sliders".
Dinah has also appeared on NBC's The Martha Stewart Show and cooked Korean BBQ Beef. Martha Stewart called her, "The Korean Martha Stewart". Dinah dreams of having her own TV show so she can share her prize-winning recipes and comfort food.
---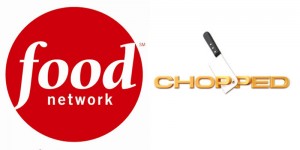 Watch Dinah compete in Food Network's Ultimate Chopped Champions Tournament on September 2nd 2014 at 10 PM
Food Network will be launching an Utlimate Chopped Champions Tournament with amateurs, professionals, celebrities and heroes. Dinah Surh will be in the amateur round. Hope you can tune in.
Chopped Episode: "Ultimate Champions: Amateur Champs"
Season 21, Episode 8
Episode Synopsis: Part 2 of 5. Amateur winners return to compete for the "Ultimate Champions" title in a battle that begins with salsa and cheese blintzes as appetizer ingredients. Later, two chefs vie to use a certain piece of equipment in the entrée round; and grapefruit shows up in the dessert basket.
Original Air Date: Sep 2, 2014
---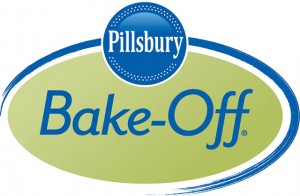 Dinah Surh Bake Off Finalist
Pillsbury Bake Off 47 Nashville, Tennessee – November 2014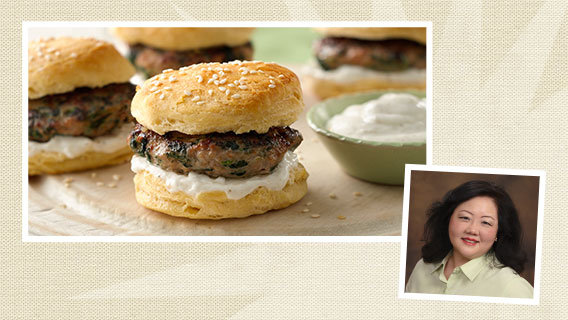 Click Here For More Information
Dinah Surh, a local resident of Staten Island has been named as one of 100 Finalists in the freshly redesigned 47th Pillsbury Bake-Off Contest in the Savory Snacks and Sides category for her recipe "Spinach Turkey Sliders with Lemon Yogurt Sauce". The Bake-Off finalists will compete in early November in Nashville Tennessee where one lucky finalist will walk away with a $1 million dollar grand prize.
The Pillsbury Bake-Off Contest is one of the most iconic competitions in the United States. It originated in 1949, with the first competition at the Waldorf Astoria in New York City. This year, to encourage simpler, original recipes, submissions including Surh were limited to seven or fewer ingredients and must take 30 minutes or less to prepare, not including baking or cooling time. Surh will be competing for her last chance to win the Bake-Off since finalists can only compete a maximum of three times for the contest. For more information go to BakeOff.com where you get the recipe and write a review.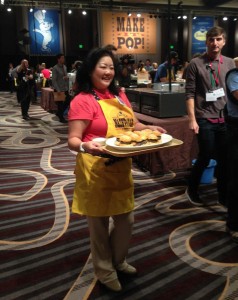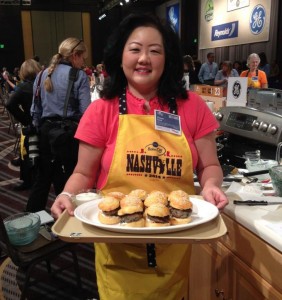 At The Pillsbury Bake-Off Contest In Nashville
"Spinach Turkey Sliders with Lemon Yogurt Sauce"